The Easter family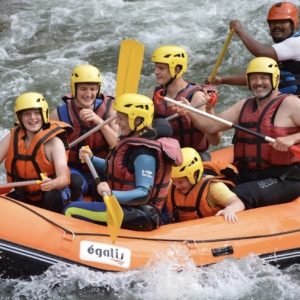 Thank you so much for a wonderful holiday – the activities were the best we've ever done (certainly the most thrilling!). The four children have said it's their best holiday ever (… and that's coming from 3 of them being teenagers!!).
The older boys are fitness mad so the varying difficulty levels were perfect so my 11 year old and myself could take the less terrifying routes on the rope climbs. Canyoning was fantastic and the white water rafting was incredible fun.
Thank you for organising us and booking all our restaurants (the burgers at the restaurant on the mountain top got voted the best in the world). The beautiful traditional meat restaurant was fantastic and I never thought my 11 year old would be eating pig trotters and rabbit!
Thank you for a real treat and allowing me to have a wonderful holiday with my family and taking all the stress from me for organising it all – I'm glad you did as my French is awful.
Thank you to the lovely Madam for letting us enjoy their beautiful barn conversion to ourselves – we all loved the hot tub in the garden overlooking the mountains (lots of deer watching and trying to look for a bear).
We will be back!