Winter is a special time in the Pyrenees mountains. Whether you're a non-skiing family or an adrenaline junkie looking for the next big thrill, there are plenty of fun snow-based activities for everybody to enjoy here.
We prefer to propose sustainable activities on the snow that don't involve any form of mechanisation or have a negative impact on the environment.
You'll be surprised at the options that are available! The activities below are just a selection of the snow-based fun you can enjoy. Have a chat with us to explore all the possibilities.
** Note that the prices indicated are what you'll pay to the activity providers directly. **
Snowshoeing
Jan - Mar
7+ years
From €45 pp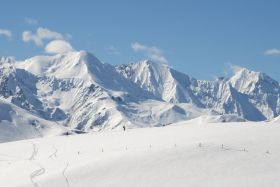 The best value snowshoeing options are if you join a small group but private outings are also possible with our carefully chosen local guides. These are just some of the options. Contact us for more.
Animal tracking snowshoe morning for families – children as young as 7 will enjoy this easy morning small group guided snowshoeing outing to look for animal tracks in the snow.

Torchlit snowshoeing with tartiflette – suitable for families with children aged 12+, an outing after dark which includes a meal of traditional tartiflette and local charcuterie.
Full day guided snowshoeing experience – your private snowshoeing guide will take you into the back-country for an exceptional and beautiful off-grid experience.
Ski Touring
Mar - Apr
16+ years
From €85 pp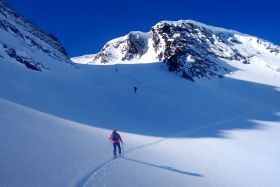 Escape the ski resorts and opt instead for a more sustainable experience on skis, exploring the back-country on a ski de randonnée or ski touring set up.

Our carefully selected expert local guides know just where to go for the best and safest experiences and will provide all the ski touring equipment you need if you don't have your own.

Full day small group ski touring experience – fit, confident skiers who are comfortable in all snow conditions will relish the challenge of skinning uphill and whoop at the reward of a thrilling descent, on this small group outing!

Whether you're new to ski touring or have done this sport before, there are options to suit your experience. Ask us for details.
Cross-Country Skiing
Jan - Mar
10+ years
From €38 pp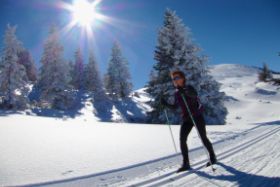 Cross-country skiing is known as ski de fond in France and is another low impact winter sport that you need to try at least once on your winter holiday.

The skis are very skinny compared to the skis you wear on piste and it requires a full body technique to make it around the graded circuits in the dedicated ski de fond areas.

Wear your normal skiing salopettes at your peril as you'll very quickly work up a sweat cross-country skiing!

You can buy a day or a half day pass and we can arrange hire of all of the essential equipment for your cross-country skiing experience.
Fat Biking
Dec - Apr
12+ years
From €70 pp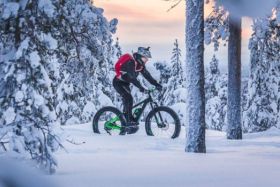 A bike with super wide, grippy tyres is just the job for riding in the snow! Once you've got used to handling the bike in snowy conditions you'll soon be addicted!
Guided outing on an electric fat bike – with an expert local guide you'll explore snowy paths and tracks in the picturesque Aure Valley, with the e-bike giving you valuable extra assistance!

Ski resort descent on a fat bike – after the pistes have closed to skiers, you can enjoy a fun descent with a local guide at one of the local ski stations, an unusual experience that you won't forget in a hurry!

Sledding with Huskies
Dec - Apr
7+ years
From €150 per sledge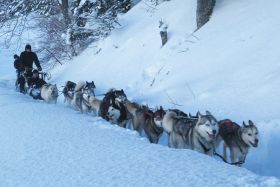 Your archetypal winter activity, adored by adults and children alike, a ride in a sledge pulled by huskies!

There are a few centres in the central Pyrenees that propose this wonderful snow-based activity, so the choice will depend on where you are staying for your holiday.

30 minute ride with the huskies – an experience for max 2 adults and 2 children in a kart that is pulled by 10-12 super excited huskies!
Learn to be a musher – after a half hour of tuition learning how to drive the huskies, you'll be put in charge of your own team of 4 dogs and head out on a 1 hour experience through the snowy forest and out onto the mountainside with breath-taking views.
Paragliding
All Year
7+ years
From €90 pp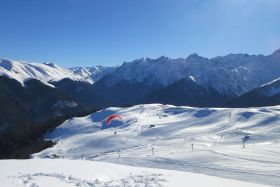 A tandem paragliding flight is an unforgettable experience at any time of year, but in the winter it is truly spectacular.

The take off point for the 15 minute flight is either up at one of the ski resorts or from a point high above the Louron Valley.

Paragliding is very much weather dependent and guests' safety is always the instructors' top priority. Be aware that flights will be cancelled if the conditions are anything less than ideal.
Snake Sledging
Dec - Mar
6+ years
From €22 pp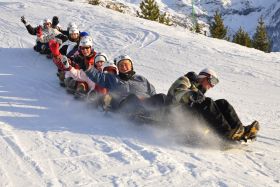 Snake sledging is a fantastic fun snow-based activity suitable for children as young as 6 years of age.

A couple of ski resorts in the central French Pyrenees offer this family-friendly activity during the winter season.

Snake sledging for young children takes place on an adapted slope which is shorter and not as steep as the one used for adults and older children.
Snake sledging for older children and adults involves an uplift to a higher slope at the end of the day when the slopes are closed to skiers. From there you will have an action-packed, hilarious descent back down to the bottom.
Ice Climbing
Jan - Mar
12+ years
From €80 pp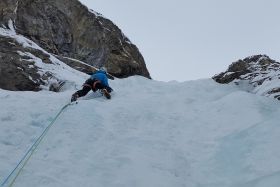 Ice climbing is an adventurous activity that you need to do at least once in your lifetime!

In the company of an expert local guide you'll be instructed on how to use your crampons and ice axe to climb up a frozen waterfall.
You'll be safe at all times, held securely on a rope that is attached to your belayer on the ground.

Ice climbing is available as a half or a full day activity depending on how adventurous you are feeling!