Dare to push yourself on some challenging off the ground adventure activities while you're on holiday in the Pyrenees.
Thanks to our carefully chosen, trusted activity partners, we'll enable you to tackle some amazing bucket-list activities that you have to do just once in your lifetime.
** Note that the prices indicated are what you'll pay the activity provider. **
Paragliding
All year
6+ years
From €90 pp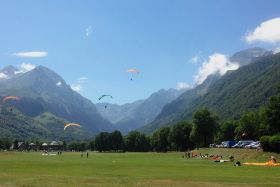 See the beautiful Pyrenees mountains from a completely different perspective on a tandem paragliding flight with an experienced instructor.
We work with teams of instructors in a number of different locations in the central Pyrenees but all assure the same breath-taking experience.
You can look forward to a 15-20 minute flight. You should be aware that paragliding requires specific weather conditions for it to take place.
Rock Climbing
All year
6+ years
From €45 pp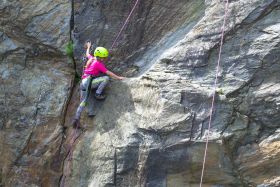 Whether you're a seasoned and experienced rock climber or a family looking to go rock climbing for the first time, we can arrange for you to spend some quality time on the rock with one of our expert local instructors.

Beginners rock climbing – enjoy a morning or afternoon session with a qualified instructor on a lovely little rock face in the valley. All equipment is provided and you'll learn how to belay as well as how to make your way up the rockface whilst tied into the rope. This is a great introduction for complete novices.

Intermediate rock climbing – if you already rock climb at home and fancy a half day or even a full day with a local instructor either lead climbing or top roping on one of the fabulous sports climbing crags in the area, we can make arrangements for you.

Full day multi pitch – for experienced rock climbers who're looking for a cracking mountain experience, a day of multi pitch sport climbing with an experienced local instructor is just the job!
Via Ferrata
Apr - Oct
12+ years
From €20 pp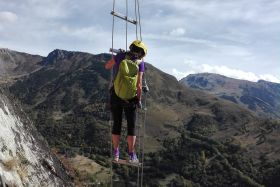 Via ferrata is a challenging activity that requires a good head for heights and a certain confidence if it is to be enjoyable.
Self-guided via ferrata – We can arrange for your confident teens to tackle a valley-based via ferrata course. It will take around 2h and is no walk in the park! It can also be done with a guide who will help you out if you get stuck.

Guided via ferrata – using a local guide is the best option for enjoying a more challenging via ferrata course. Across the border in Spain you can enjoy a full day out on a beautiful, picturesque course which has stunning views of the mountains. It is however south-facing so best avoided in August.
Tree Climbing
Jul - Aug
10+ years
From €15 pp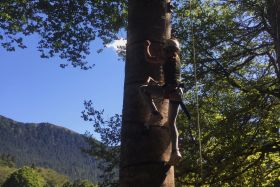 Indulge your inner monkey with a 2h session of tree climbing!

An expert instructor will kit you out with helmet and harness before attaching you to a rope connected securely to another member of your party on the ground.

You'll then climb up the tree using climbing holds that have been affixed to the trunk.

A number of big, straight trees have been equipped with climbing holds, the routes up getting gradually more difficult.

There's also a rope bridge and, as a grand finale, an adrenaline pumping a giant rope swing! Are you brave enough?!
Adventure Course
Jul - Aug
8+ years
From €28 pp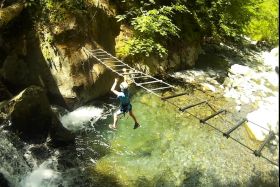 The ultimate 'out there' adventure course? We think so!

With an expert instructor you'll make your way up a wild and unspoiled river course near the border with Spain, crossing monkey bridges, rope bridges, using via ferrata and much more.

The route is graded blue, green and black so you can tackle whatever sections you wish. There are get outs throughout.

Expect to be out for 2h30 so count on a full half day for this activity.