Water sports lovers are spoilt for choice in the Pyrenees mountains, with adventure activity options not only for adrenaline junkies but for families with younger children too.
The most exciting time of year is in May and June when the snow melt swells the rivers, making for some action-packed experiences on the rivers
** Note that the prices indicated are what you'll pay to the activity providers directly. **
River Canyoning
May - Sep
7+ years
From €30 pp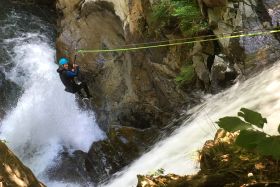 Descend a river course with a specialist guide on a river canyoning experience.

River canyoning for beginners – for children aged 7+, an easy max 1h descent with get-out options and a path alongside.

Intermediate canyoning – for children aged 12+ – a longer, more technical river descent with bigger jumps into deeper pools, longer rock slides and an exciting tyrolean down a waterfall.

Full day canyoning for all – on the Spanish side of the Pyrenees, a beautiful descent down a dramatic limestone river gorge with opt-out options the length of the river.
River Rafting
May - Aug
7+ years
From €38 pp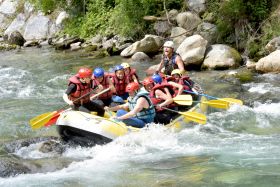 We work with carefully selected river rafting companies who we know are going to give you not only the most fun but the safest rafting experience.

On certain rivers, even in late summer, you can enjoy an action-packed descent thanks to timed, regular water releases from hydroelectric facilities up-river. We have the inside knowledge!

Family rafting – if you're a family with children that can swim then we can arrange a fun, not too action-packed descent of a picturesque river in the central Pyrenees.

Rafting for adrenaline seeker – alternatively, if you have teens hungry for thrills and spills, then we'll arrange a rafting descent that includes grade 4 rapids which are sure to hit the spot!
River Boarding
Jul - Aug
14+ years
From €38 pp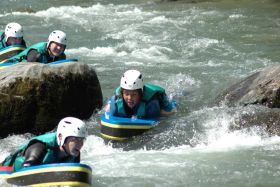 River boarding is fantastic fun for strong, confident swimmers. We'll be able to advise whether this activity is suitable for you before you book.

Early in the season the river levels can be high and turbulent, meaning good strength is required to keep hold of the board and navigate your way down river.

As the levels drop, the approx 1h30 descent becomes easier, but concentration and strength are still required.

An instructor/guide will be accompanying you on your river descent and is there to help should you get into difficulty.
River Walking
Jul - Aug
7+ years
From €15 pp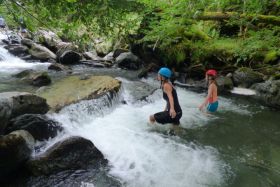 Making your way up a river course on foot is a fabulous way to experience a fascinating watery world.

Our carefully chosen local guide will accompany you up an untouched and jungle-esque river course which will amaze you.

You'll spend around 2 hours in the river, looking for aquatic life under rocks and maybe being challenged on some of the deeper sections of water.

We'll give you advice on what to wear and take with you. Younger children will be provided with a wetsuit and you'll all be given helmets to wear.
River Kayaking
Jul - Aug
9+ years
From €27 pp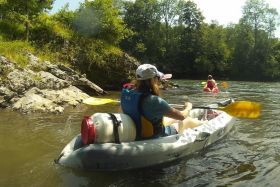 The perfect summer activity? Thanks to our fabulous partners at a water base on the Garonne river, you can enjoy a peaceful couple of hours in the river kayaks.

Single and duo kayaks are available and sealed containers are provided so you can take a picnic to enjoy at a picturesque spot on the river bank.

At the end of your 2 hour experience on the river you'll be collected by minibus and returned to the base.
Lake Kayaking
Jul - Aug
7+ years
From €20 pp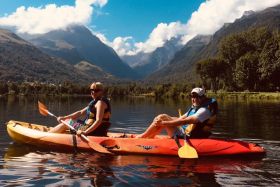 Kayaking on a lake surrounded by the most beautiful high mountains is a great way to wile away an hour or two in the summer.

Single and duo kayaks are available and life jackets are provided by the well run base that we recommend.

You can hire the kayaks for 1 or 2 hours and a rescue craft is always on hand should you get into difficulty.
Stand Up Paddle-Boarding
Jul - Aug
10+ years
From €22 pp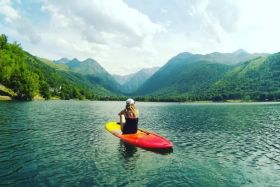 Stand up paddle-boarding is an increasingly popular summer activity in the Pyrenees.

The boards used by our activity partner are stable and are ideal for those who've never tried this sport before.

Spend an hour or two out on the lake, soaking up the tranquil mountain views and enjoying the peace and quiet.