We love our four legged friends and there are numerous experiences we can arrange for you to enjoy their company in the Pyrenees too!
Whether you'd like to enjoy the company of horses or donkeys, or discover just what wonderful animals huskies are, there's an experience for you.
** Note that the prices indicated are what you'll pay to the activity provider directly. **
Horse Riding
All year
7+ years
From €40 pp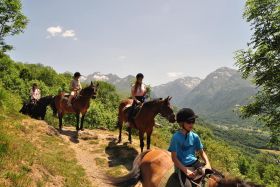 We've taken great care to ensure the horse riding experience that you'll enjoy with our partners is not just another 'plonk you on a bored horse and off you go' experience!

Our partners will involve you in preparing your horse for the ride, including brushing it and putting on the bridle and saddle.

After your ride, you'll also remove the tack, brush down your horse, reward it with an apple or carrot and then release it back into the field.

Beginners riding experience – for children and those who are new to horse riding, this gentle 2 hour ride on valley-based paths and tracks is the perfect introduction.

Half day ride – you've ridden before and have some confidence on horse back? Your instructor will accompany you on a half day ride to explore the surrounding mountains and foothills.

Full day ride – experienced riders will love this full day guided riding experience which will take you higher up into the mountain environment on paths and tracks that have been used by farming communities for centuries.
Donkey Riding
All year
4+ years
From €20 pp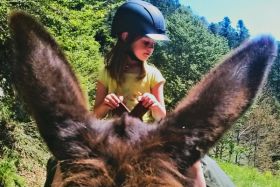 Have you heard of the native Pyrenean donkey?
These adorable creatures are perfectly adapted to carrying loads and are the perfect mount for small children.

Half day – what young child wouldn't enjoy a morning or afternoon sitting astride one of these adorable animals! It's an easy walk along paths or tracks for older children and the parents and a great way to experience some time in nature.

Full day – opt for a full day and go further, taking a packed lunch to eat in a picturesque spot.
Husky Walking
Mar - Nov
6+ years
From €30 pp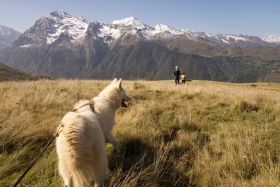 Huskies are not just for winter!

These dogs need exercising year round and you can be part of their training regime.

The husky base that we partner with is home to over 40 huskies which belong to three breeds.

On a half day experience you'll learn all about the huskies, their pack life, diet and character before being introduced to your companion for a 30 minute walk.

You'll wear a special waist harness to which your husky will be attached and will find out just how strong these dogs actually are!